Featured Designer: Ann-Sophie De Steur
We welcome you, dear lovers of graphic design! Are you ready for amazing minimalism and some vector graphics stuff today? Introducing a new master of magnificent Illustration Ann-Sophie De Steur!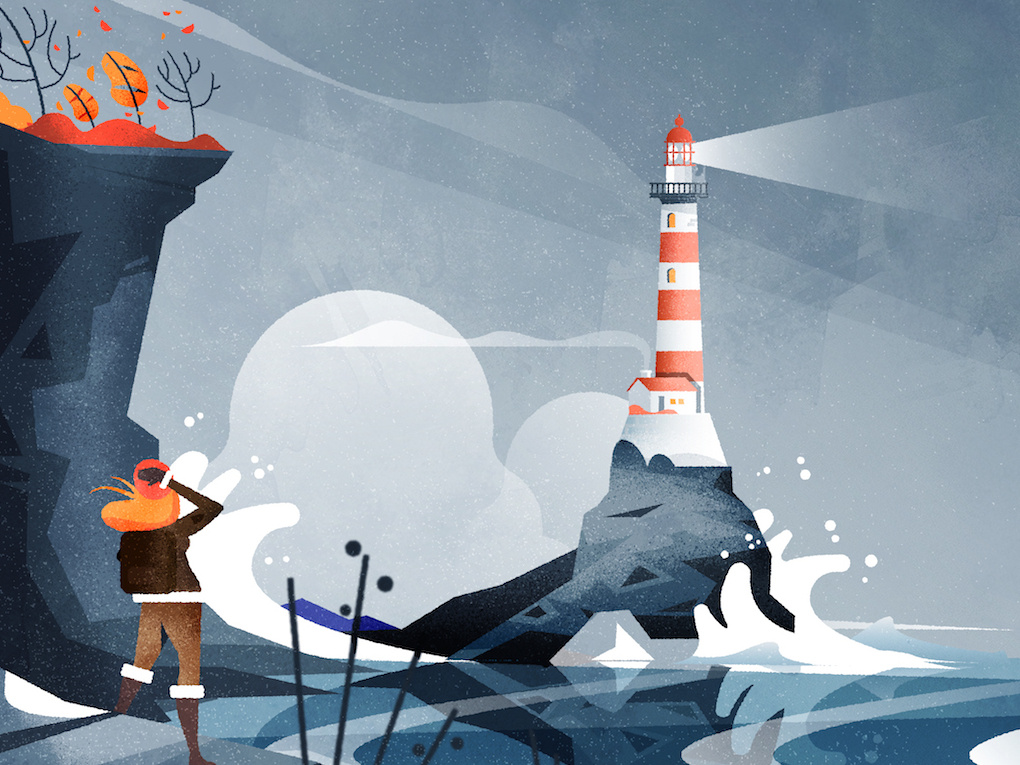 Who is Ann-Sophie De Steur?
The city of Ghent which is in the Flemish Region of Belgium has its own pride – young designer Ann-Sophie De Steur. Her works display professional and at the same time very emotional interpretation of minimalist design. The uniqueness of Ann-Sophie DS`s pictures is symbolism of the image of people. Often atmospheric human figures complement the illustration and are not the most important part of it.
Some facts about Ann-Sophie De Steur
Ann-Sophie is fond of pet subject, "especially puppies" – she informs. On her illustrations you can see animals as main characters or as personality double.
She has two degrees: MA in history and BA Graphic Design.
Fan of game "Skyline", even created paintings under the frenzy of it.
My favorite illustrations
Why autumn is not the best season for introspective walks with your beloved dog? If you agree with it, you can assume that the touching and warm orange color that the designer used with particular trepidation has sunk into your heart. Personally, I am caught in the stylistic texture of the picture. This is Ann-Sophie`s cliché.
Again magic of stylistic texture, which makes melancholic illustration picture more philosophical than sad. The author says about personality problems, loneliness as a means of knowing oneself. And once again nice and pretty pets saying "everything will be fine", just keep being yourself and refresh your mood!
Do you like fiction on futuristic utopias? Contemplating this picture is the time to plunge into children's fantasies. Do you remember yourself in childhood? When you watched some fantastic movie and it makes you believe in fair bright future? It's a warm and lovely illustration. Neon violet and my favorite Ann-Sophie`s texture makes smile.
What would you feel if, for the sake of harmony, you would just need to gently pat the face of a cute deer? This stuff is for Goddesses, specifically, this reminds me of the fairytale of a Мaleficent. The color solution of this masterpiece resembles splashes of champagne in warm weather. The whole picture looks warm and light. The unique texture of the illustration is fascinating. Most likely this is my favorite illustration of Ann–Sophie.
In front of you strikingly controversial cosmic utopia. On the one hand, we see a gloomy color scheme, but on the other hand, it is the hope of managing people in space. Why is it necessary to explore cosmic space with the purpose of living? This illustration gives us an answer – because it's a really cool architecture can be in space cities! Would you like to book an apartment in the space city made by Ann–Sophie? I can deal with it.
How would you explain to a little child what happiness means? It is a state of lightness and a feeling that you can fly. Looks like pretty girl in current illustration feels exactly this. Educators in kindergartens could use this shot in their work to clearly describe the word "happiness." Personally, I again want to thank designer for the magical texture of the illustration and pet theme. Thanks to this, a girl with a kitten is not just beautiful – this is a sublime state of mind and body!
Japanese torii symbolize success and prosperity, but in interpretation by Ann–Sophie these amusing oriental installations become more homelike. Even if you are not Japanese. The artist likes to use Japanese motifs in her works. This illustration is special in that the cliché structure, which the artist usually uses, is more contrasting and accentuated in pixels than in the last shots. The picture reveals the designer's talent in the crossover in relation to its style. Tell me honestly, do you have a desire to visit Japan now?
This is a very particular scene! When I looked at this one for the first time, I was delighted like "O, beat me thunder, is it truly Ann–Sophie's work? And so she also knows how?". Her sweet light texture blends with straight and emotional deep purple. The picture is mysterious but attractive. It is noteworthy that there is an atypical directness of color presentation for this designer. The picture seems to say "Hey you! Get up and overcome your own barriers to know your potential!"
Ann-Sophie De Steur in the Web
Your favorite Belgian designer has social media accounts. You can find her on Behance, Twitter, Facebook and Instagram. The artist creates the impression of a sociable girl😉 Do not forget to share your opinions about the work Ann–Sophie De Steur.