Featured Designer: Joanna Ławniczak
Hey, how's it going? Let me answer for you – everything is super! Because now there will be a time of perfection. Open your heart to ravishing beauty. Today the Polish designer Joanna Ławniczak will act as a synonym for beauty.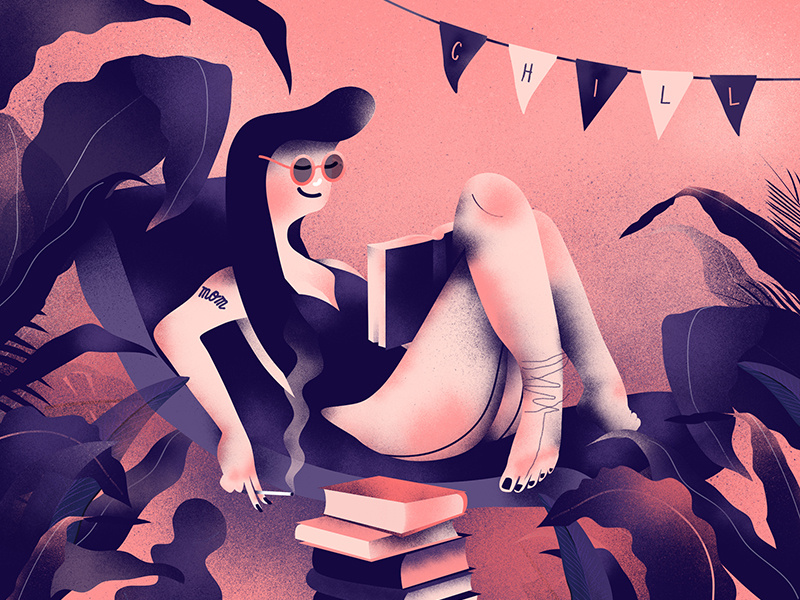 Who is Joanna Ławniczak?
I present to you a young pretty designer from Gdynia, Poland. Her work is special because of the incredible, sometimes bold, illustrations. Judging because there is no information about her in the web, it can be concluded that her thoughts and everything that she would say about herself is contained in her works. Do you want to know her closer?
Some facts about Joanna Ławniczak
Joanna is a shy person, introverted temperament.

Among its achievements is successful cooperation with about twenty companies.
My favorite illustrations
Oh, how I like this one! Cassettes! Skillful subtle shading forms the basis of the designer's style. As for me, this shot is like an episode of my own life. All the details in the picture speak about the informality of the girl in expressing her ego. Look at the philosophical text in a notebook. Now you understand why I'm so vividly talking about this designer.
Imagine that you were asked to describe the meaning of the phrase "creative mess" without words. If I were you, I would answer with a demonstration of this illustration. It causes an association like a stream of consciousness inside the head of a cute girl. It is fancifully aware that masterpieces are born from this position of the disorder. And Joanna herself is also a masterpiece (I said and blushed😊).
Awesome concept! Subtle shading in the first place, which is the artist's brand handwriting, is revealed in fundamentally different colors. Secondly, the deep meaning of the picture. The man seems to be drowning in the smartphone. And I see that a lost person among billions of photographs and other virtual rubbish is breaking through back to real life! It is like a half full or empty glass. What do you think? Does everything depend on the human mood of the incident?
Unreal colors, a friendly combination of light and shadow. It seems that all shades of blue and orange are the illustrator's favorite color range. You know, Joanna's work is more important to me in terms of meaning. This is not just a picture, but a whole psyche micro-universe.
Another one illustration named in one word. Again philosophy: the glass fell as a result of bad luck or was thrown away for good luck. Well, I will not load you with polemics, just enjoy the talent of a designer in another interpretation. The picture has a warm glow of texture, which is very interesting, knowing all the work of a Polish artist.
Magic crystal ball, show to me my future love! What? Seriously? You want to say that I'll love the volume chart? Oh, you say that not simple vision. Well, this is a graphic masterpiece from a cute designer girl and there are so many pieces of her souls in details. Okay, I agree, this is really my love.
Probably now the entire male audience watching the illustration did not notice how the lower jaw dropped and dangled somewhere below. You must lift it into place, guys! What about the girls looking at it? Do you want some workout? It's time to join these three sporty ladies. Unexpected textures and colors give the illustration a special charm.
Looking at this miracle picture I want to say "Joanna! What are you doing with me? I will mercilessly fall in love with you and your inner world!" It is impossible not to appreciate the breadth of the creative potential of the designer. What anxious attention to detail! She loves musical instruments, it impresses. Again a new palette of colors. Delight and harmony fill my heart.
Joanna Ławniczak in the Web
Pretty, young and modest artist owns her website. Follow it and you will see another piece of Joanna's soul and links to her social networks: Instagram, Facebook and Behance. Let me be honest: having become acquainted with the artworks of a Polish illustrator, I deeply fell in love. Is it my weakness or do you feel the same after watching her collection?