Featured Designer: Linn Fritz
Greetings, my friends! The artist that will be discussed right now is unusual and attractive as a person. I`d like to call her 'Northern Snow Queen of motion graphics' because she was born in Sweden. But her true name is Linn Fritz! Your applause!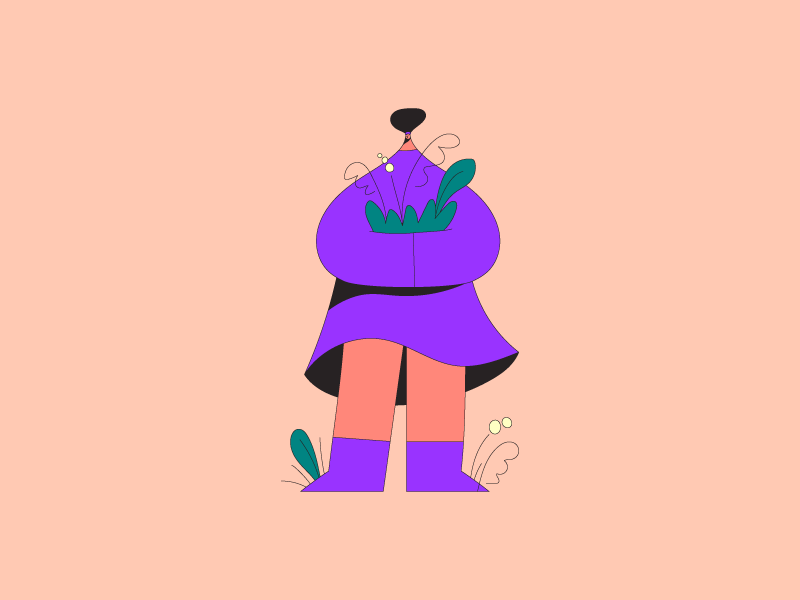 Who is Linn Fritz?
Despite the fact that Linn Fritz was born in Sweden, she did not want to be a Snow Queen and chose London as a testing ground for her artworks. She studied Motion Graphics at Hyper Island. Her works are minimalistic, colorful and abstract. She describes her artistic style as '1960s-1970s, with a modern touch'. You should definitely check out her animations and illustrations.
Some facts about Linn Fritz
Linn is a co-founder of 'Punanimation', a directory of women, non-binary and trans animators and motion designers.
The list of her clients includes such giants as Facebook, KFC, and Aperol Spritz.
My favorite illustrations
At the beginning of our today's review, I want to show you this mysterious illustration. Awesome line work, colors and texture. Look at how many small parts are there and how much sense they carry! Neat delicate nails and a watch are performed in the same way as the multiple tasks and riddles that the hands are holding.
Here is another stylistic solution, atypical for Linn. Once again, charming details but now in much larger quantities! While you are surprised and amazed, I note that the artist loves plants. This may mean that she is a caring and responsible person. Now I understand why many companies are pleased to cooperate with her.
You are fond of minimalistic abstraction, right? I know why there is so much story in simplicity. Perhaps this warm background color and thin lines is our internal state of waiting. Do you feel it when waiting for something with impatience?
In this animation we are contemplating the artist's work environment. I see a whole life in here, an artistic universe. Each element in the image is clearly drawn and when movement begins, the harmony appears. Everything is self-sufficient. Colors are combined with motions. Everything lives its life. I want to cuddle the cat. And you?
I can say that the soft, warm and moderately bright background color is the signature in the works of Linn Fritz. And again, there are some plants in this illustration. As for me, I think people who take care of plants and pets are nice. Hope you agree.
Welcome to the next level of Linn`s illustration art. I would not call this work minimalistic at all. This is definitely a progressive abstraction! An interesting color transfusion on the background accompanied by an abundance of difficult details. It makes me think a lot about the existential sense of information in our life. Do people manage information or vice versa? How do you think?
All genial things are simple. In this work, Linn surpassed herself in motion graphic. Look at the moving gradient on the background. It looks like 3D. Pleasant colors of our planet in dark and cold space. Can you imagine we live somewhere there! And what about a flag on the surface of the moon? I hope that's the people's achievement, not aliens.
Linn Fritz in the Web
In the repertoire of Linn Fritz, there are still many high-quality and cool works of both illustrations and animations. To give you a chance to see it I'll leave a link to her official website. I advise you to check out an interview with the artist. You can also follow her on social media networks, find links on her website. That was a dizzy review, isn't it?
Wish you good mood and smiles! See you later!