Featured Designer: Maite Franchi
How are you doing today? Are you ready to get some inspiration? Today we are happy to present you a new designer – Maite Franchi. Also, today we have a special theme – France!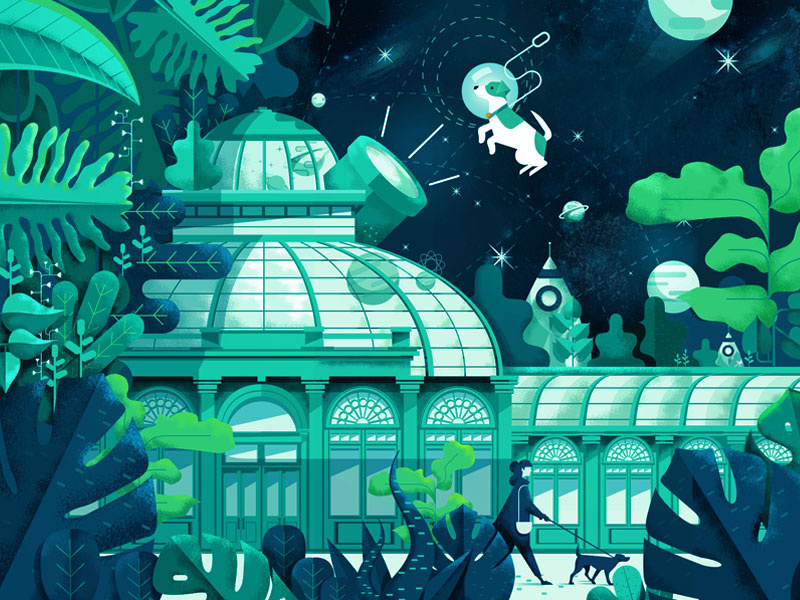 Who is Maite Franchi?
Maite lives in Lyon, the third-largest city in France. It is a commercial, industrial and banking powerhouse for the past 500 years. There are a lot of beautiful places and you can find in Maite's work some reflection of this amazing city and French culture.
Some facts about Maite Franchi
Maite speaks French and English as well
Now she is a Freelance Graphic Designer and Illustrator
If you like France you will enjoy her artworks!
Now let's look at some of her illustrations.
My favorite illustrations
Our feline friends are true masters at falling asleep any time, any place, under any circumstances. Cats can sleep as much as 16 hours a day, and older cats spend even more time at rest — as much as 20 hours a day. This animation is a perfect illustration of cats' sleeping habits! Do you want to convert into a cat? If so, Maite can help you🐱
This picture illustrates how to plan a weekend that you will remember. First, go cycling with all your family. Do not use a car! Cycling is good not only for your health but also for the community. It enables people to interact socially and feels more at home in their local neighborhoods. All together you can go and see some beautiful place or do some sports! And finally, you can finish the day with cheese and of course some wine! This is a perfect day according to Maite. She used warm colors to highlight the illustration. Now tell us how are is your perfect day looks like?
Winter is here! Did you prepare for the cold season? Look at these stylish dogs: they know how to survive winter without a struggle! All they need are beautiful and warm blue scarfs and comfortable vests! Do not forget about accessories such as glasses and bags, they will help you to make your look perfect.
French food is known globally for its finesse and flavor. Do not look at this picture if you are hungry! Here Maite illustrated tartine. In French, it literally means 'a slice of bread'. This open-faced sandwich tends to showcase the quality of the toppings by giving them a stronger spotlight. Here you can see strawberries and blueberries. If you add a cup of coffee you will have a perfect breakfast.
In France, people use a lot of herbs for cooking, and the best way to keep your herbs fresh is to organize a small kitchen garden. Growing your own herbs isn't complicated and your window will look very romantic like in this picture! You can start with mint, basil, and of course rosemary. Now you can enjoy fresh herbs all year around!
France is not only about snails, berets, perfume, and the Eiffel Tower. France should be renowned for the fabulous skiing and snowboarding instead! There are nearly 200 ski resorts in the country! This illustration is a prove. Look at this snowboarder, who is enjoying the snow and high mountains! What can be better?
Look at this picture, can guess where it is? This is Lyon's famous buildings painted with warm colors on the mountains. Many tourists come here every day to enjoy the view! If you are thinking about where to travel this year, you should go to Lyon! You will enjoy it, I promise!
Maite Franchi in the Web
Hope you enjoyed the illustrations and French culture. If you are interested to check more artworks or at Maite's portfolio, you can check her website, Instagram, or Behance!
---
Have a wonderful day! Au revoir et à bientôt!