Featured Designer: Matt Anderson
Dear friends, today I would like to present you a new artist Matt Anderson. I hope you will enjoy his graphics, and now I am going to tell you some details about this amazing designer.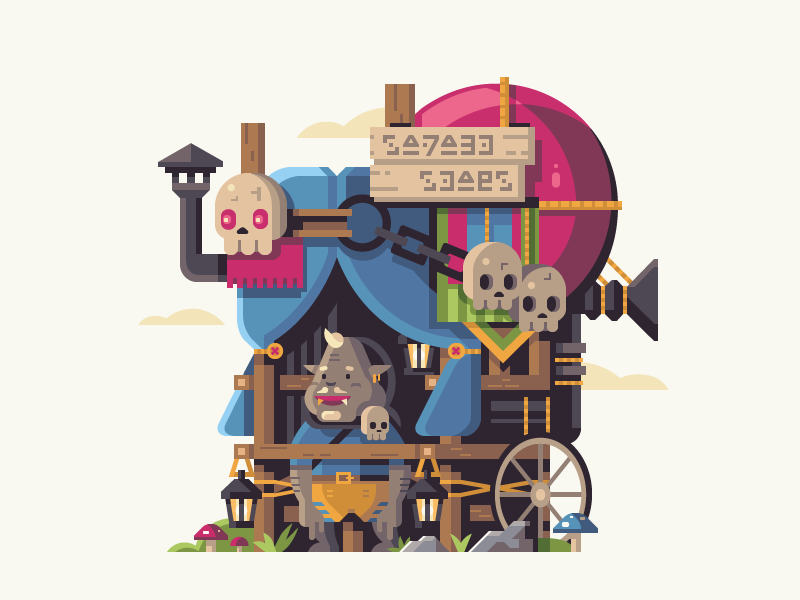 Who is Matt Anderson?
Matt Anderson is an illustrator and designer living and working in Rochester, NY. Also, Matt is a co-founder and designer at Canopy. He spends his days creating icons and illustrations that have a clean and concise look.
Some facts about Matt
He is always looking for new and interesting projects
Matt likes sports and hiking
He established his own company (Canopy)
My favorite illustrations
Camping is a perfect way to escape busy cities, just imagine you can spend time without your gadgets and city noise. Matt illustrated a wonderful camping night, at the end of the day a girl is enjoying her favorite book in a tent. Let's go hiking soon!
Wow, this is a very cool castle. I love the details and the retro style, and of course, there is a dragon, and knights who are trying to defeat it. This illustration has a special style and harmony of colors.
This parrot bard is very special, look at his colorful outfit! He can play your favorite songs and you can dance. I really like the style of this illustration, all the details fit here! And now I can hear the music that the parrot is playing… What music would you ask him to play?
I am sure you have played famous Mario game at least once in your life, and now Matt decided to picture the hero in a different style, look at the colors and details. Do you like the new outfit?
How many gadgets do you own? I bet more than one, and here Matt illustrated a special island, it contains all your machines and illustrates your digital reality. It does not look bad, right? I like the assistants and green trees. How is your digital island looks like?
This is how Matt imagines a perfect grocery store; they sell only organic food and care about their customers. I really like the colors and the gentle green that the artist selected for the background.
Matt Anderson in the Web
If you like Matt's artworks, you can find more on his own website. Also he is an active user of Instagram and Twitter.
---
I hope you enjoyed the illustrations, and remember you can always get more in our blog! I wish you all the best and soon I will prepare more graphics for you! Have a perfect day!