Featured Designer: Matthew Jedrzejewski
Hello guys! Today's featured designer is Matthew Jedrzejewski, he is very talented and amazing designer, director and animator from Warsaw, Poland.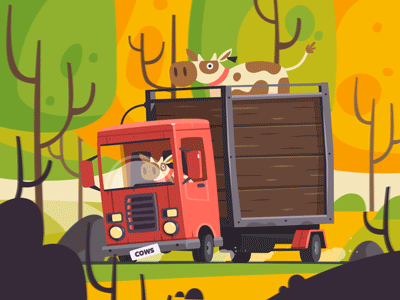 Who is Matthew Jedrzejewski
Let's see what we know about this talented animator. He lives in Warsaw, Poland. Looking at his works, that can be called definitely piece of art in animation and design, you can find good sense of humor of the author. Usually all his illustrations have juicy bright colors that attract your attention.
My favorite shots
It is really difficult to share my most favorite illustrations of Matthew, but I would like to show you these ones:
Morning Yoga is an incredible animation that inspires me personally to sign up for a yoga class.
Hahaha. This one is so funny. When I have seen it for the very first time I was laughing out loud. Just look at these cute cows. Every single detail is coherently shown nevertheless they are trees or car number. In addition, I like the juicy colors of this animation.
True story of my life. I just like this animation and I totally understand fillings of this ginger guy.
This is cute and funny dog with super long body. The illustration is incredibly simple, created with minimum colors, but the animation can look spectacular when it is made in the right way.
This animation reminds me about summer days when you hang out with friends making a bonfire and telling horror story and play the guitar.
This animation shows the progress of IT technologies. I think many of us can remember that time when our computer was as big as a refrigerator. Illustration itself has been made by Eddie Lobanovskiy, but the author of animation is Matthew.
Matthew on the Web
If you like great animations and illustrations of this extremely talented artist as much as I do, then you can follow him on Dribbble, Instagram or on his personal website. You can find even more interesting stuff there!