Featured Designer: Olga Zalite
Today we are happy to introduce a wonderful artist Olga Zalite to you! So let's get ready to explore bright vector illustrations made by this talented designer. 'I'm a vector graphics ninja who creates unique illustrations and icons'- Olga says.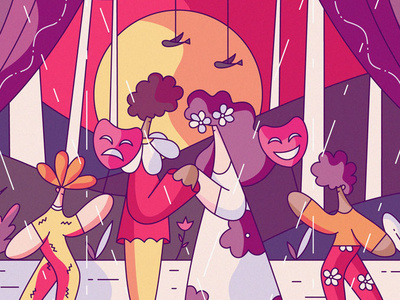 Who is Olga Zalite?
Olga is from St. Petersburg, Russia. She works as a designer and illustrator in the web industry. I think that her graphic arts are terrific for anyone who enjoys great illustration works.
My favorite illustrations
We are at a party of snobs. Why not? Her characters are funny, but they look wealthy and elegant. They are enjoying their party and they are very happy. Olga employs fluid lines and playful patterns what is very unusual and draws our attention. Her style is unique. Can you see the butt on the edge of the glass? This illustration put a smile on my face!
Have you ever fallen deeply in love? This supernatural feeling captured the artist. It's funny that we are not talking about love between two people, about a prince on a white horse, but we mean love for a cup of aromatic coffee at Starbucks. Textures and colors in this picture are different from the previous one, but the style remains the same! And yes, I would like a coffee from Starbucks, and what about you?
Do you like autumn? Do you like rain? Look at these people. It's so nice to see these round limbs that squeeze each other to warm up. Do you agree that such style of drawing human bodies looks sweet? You can see an amazing combination of paints and inexhaustible imagination of designer in transferring images of people in this illustration.
Who doesn't love cinema? And we can admire the illustration 'Cinematography'. Utilizing simple forms and bright color palettes Olga crafts amazing scenes full of charming characters. Look! You can see cameras, microphones, decorations, actors, and actresses, but Olga's wit and charm shines through her nice illustration. I hope you feel the same😄
Have you ever been interested in Arts? They help us to express our feelings, emotions and even passions. Looking at this Olga's work, we can say that the author has been encouraged by the Myths of Ancient Greece. Equally captivating are colorful textures that contrast with the white background found within this composition. People are watching sculptures with passion. Do you want to join them and plunge into the world of beauty?
Unexpected and gorgeous work shows us the wizard's team. Who doesn't know Harry Potter and his friends? But who is this stranger? Of course, this is our wonderful artist – Olga Zalite! I absolutely agree that she is a real magician! Her characters express the wide range of emotions which they share with us.
I am thrilled to discover these wonderful icons. Jasmine and Snow-White are so cute! I'd like to watch these cartoons again. The artist has a whole series of similar creations. I advise you to learn everything about these illustrations. Each of her drawings tells the whole story. I am sure they will fill you with delight.   
Olga Zalite in the Web
If you are inspired by Olga's illustrations from this collection, you must find her works in social media. Explore her world further at Twitter, Instagram, and Behance. See you at the next review! Good luck!