Featured Designer: Rocky Roark
Ladies and Gentlemen! It's a pleasure to introduce you a rock star among the designers of our era — Rocky Roark! Are you intrigued?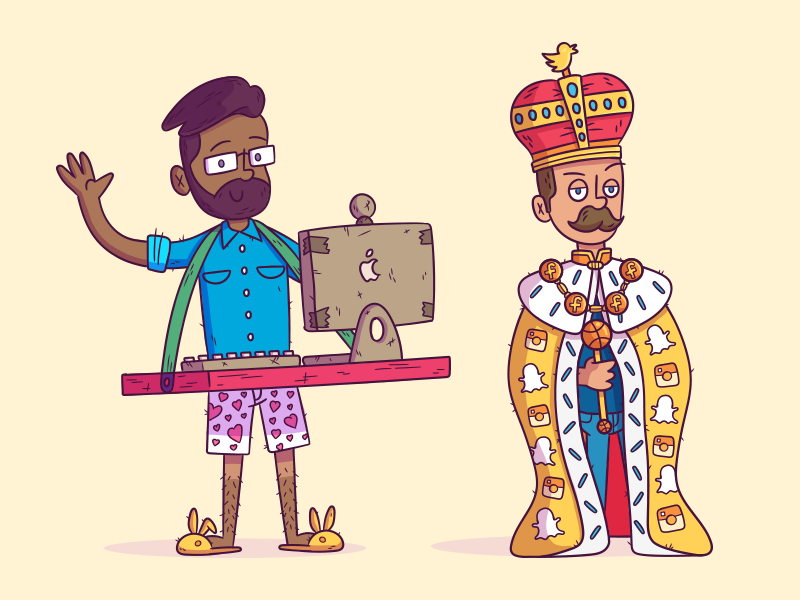 Who is Rocky Roark?
Once, in sunny San Diego, a designer Jedi was born and began to create things in graphics. In 2013 Rocky graduated from the Georgia Southern University becoming a Jedi Master of Fine Arts in Graphic Design. He collaborates with famous companies and brands such as Google, Adobe, Razer, Viant and a lot of others.
Some facts about Rocky Roark
"My creative education did not start nor end there" – said the designer.
Rocky is the head owner of "Blue Cyclops" studio in the framework of which he creates own masterpieces.
Owner of media channel in which he shares his experience; the author of the courses "Top 5 Tips to Draw Better".
My favorite illustrations
"You're in trouble now!" – as if the gangster anxiously informs us. The humor is that he has a cute eye in the middle. Powerful work that combines the brutality and looks of a cat from the cartoon "Shrek". But what do I know about how to be a gangster?
Just look at this sword! There is something fabulous in it. I believe that the artist's talent manifests itself in conveying to a person, who is far from the world of art, the atmosphere of another universe, of which the concrete picture is a part. For example, when I look at this shot, I see not only half of the sword in the stone, but a whole colorful fairy tale with knights and dragons. It is fascinating!
Unreal massive monster destroying the city. Like a Godzilla, got out of posters hung around the city before the premiere of the film. Rocky posted photos of the phased process of creating this illustration. If you look at the penultimate version in black and white, you expect to see a dark background with a bunch of burning ruins. But instead, a cute pink color in the sky and a sleepy pink eye of a monster. The stunning contrast of meaning and color in the works of this designer is his cliche.
Very soft and positive stickers were made by Rocky for the toy store. If you are a kid, it's nice to look at colorful stickers with the image of the soldiers and dolls. I'm not a kid, but still nice!
The illustration attracts with simplicity and motivational inscription. The question that the smart rooster is focusing on was asked by the participants of social media. Soon it became the symbol of the blog of Rocky Roark.
Nice Work! It's always pleasure to see cartoon illustrations. But this looks especially amazing. I love the details. First of all, it is funny, I love everything that causes a smile. Do you smile while viewing this picture?
Does it make sense to comment on the illustration? What you see is the author showed the widest scope of his skill in working with color palettes. But it is not enough to see only these illustrations of Rocky Roar to get acquainted with all the works.
Rocky Roark in the Web
So if you really like illustrations by Rocky, you can find more on his own website www.rockyroark.com.
Also he is an active user of social media: Instagram, Twitter, Facebook, Youtube and Dribbble. Check it out and you'll be the one who sees everything!