Featured Designer: Spovv
Hello guys! We are happy to introduce you our new featured designer Svilen Petrov from Bulgaria, also known as Spovv. Svilen is an illustrator and designer with the talent and passion to art. Additionally, he is a co-founder of www.SM-Artists.com.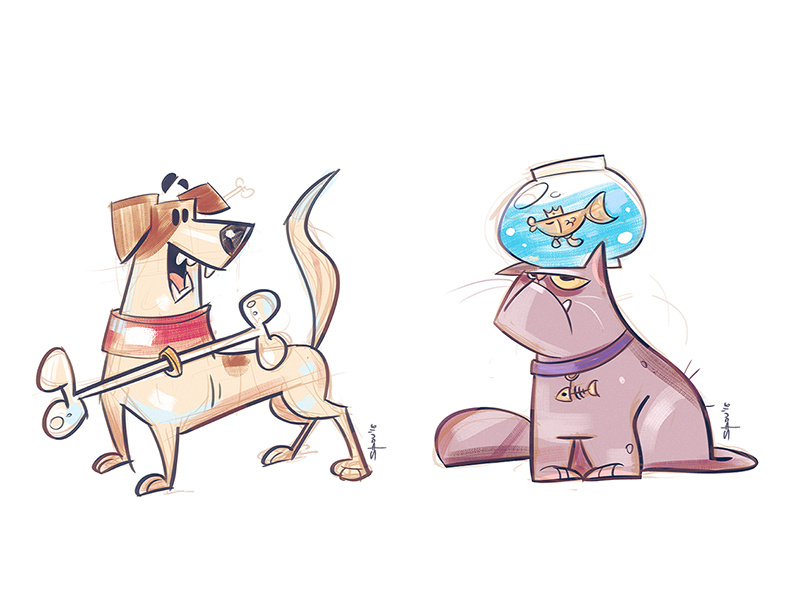 Who is Svilen
When you're looking at Spovv illustrations you can notice that all of them are cartoonish, funny and kind. The illustrations have juicy bright colors that definitely attract attention making it fun to explore every detail of his works. For me as a curious person it's amazing to see so many sketches in Spovv portfolio that helps a lot to understand how to think when you're trying to create something similar in Svilen's style.
My favorite shots
I'm a huge fan of almost all Spovv works so it was very hard to choose my favorites:
So many emotions on this shot! You can see reality of busy mom and her happy children. So many things to do at the same time… Hope this mom is fine and she can manage all her tasks.
I really like this cartoonish style for avatars. It looks fun and unusual. Just look at the details and emotions that every face shows!
The same name as the well-known TV series. Pay attention to the shell on the giraffe's back, it's hilarious!
That's a perfect wallpaper for someone who likes space and planets. The good thing that you can change the drawing depending on your mood. Thanks for the idea, Svilen!
Halloween is coming! This wizard and his wand made of slice of pizza on the top and that cute dog which looks like a bat. Haha! Great idea for a Halloween party.
The drawing shows an image of a designer girl that gives us the idea of all that the girl likes: her pets, being illustrator designer and just enjoying her life. Moreover, you can see that the cartoonish character looks absolutely the same as the girl it represents! Svilen conveyed her emotions and features masterfully.
Definitely, this is my favorite one. Look at this cutie, it's awesome! The sketches perfectly show the hilarious routine of Mike's life.
I like this illustration because it remembers me about my childhood. Everyone liked to imagine themselves as a detective or an astronaut, but I always imagined myself as an opera diva!
Is zebra white with black stripes or black with white ones? This illustration gives us an answer!
Svilen on the Web
If you are a fan of Svilen's illustrations as I am follow him on Dribbble, Instagram or on his personal website.  He constantly shares amazing works and you can find many more of them there!