Featured Designer: Diana Stoyanova
Hi guys! Today we are going to introduce you an amazing artist Diana Stoyanova. Ready to see some cool illustrations?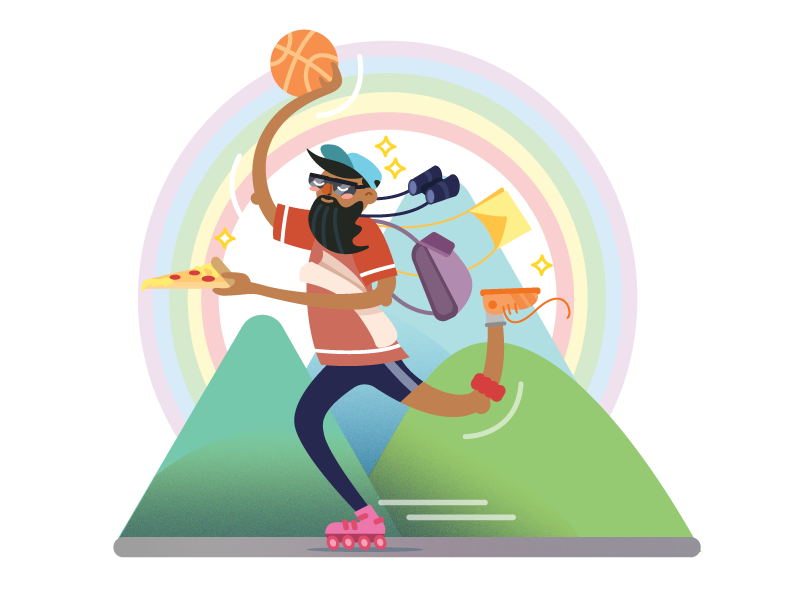 Who is Diana Stoyanova?
Diana is an illustrator and character designer from Sofia, Bulgaria. She has her personal style of illustrations that makes her artworks unforgettable! Cartoonish people are her main focus and she always illustrates them in original way. Do you want to know more about her artworks? Let me show her best illustrations in my opinion.
My favorite shots
Diana has tons of interesting and unique shots and it's very difficult to choose only a few favorites.
This shot is very personal for me cause it shows that people always think about past and future times but forget to live in the present. This is so important to enjoy every moment of our lives and just live it without regretting about past or dreaming about future. Make your life now!
Busy girl! I like this interesting combination of colors and the style that Diana used to illustrate this character. The shot shows the modern pace of everyday routine but only you can change this routine to better and tremendous life.
Who has tried to make the same figures in our childhood? This shot reminds me about all the games in my childhood. Aw, it has been perfect and lovely time. Let's try to make this heart one more time and give love to our friends and family.
This is a collaboration work with another talented designer Darya Semenova. I like this shot because it's so simple but at the same time it conveys positive emotions and makes me smile.
This shot is fabulous! I think everyone can understand the whole concept of it. Just enjoy the moment and make your love and life flourish even if it takes time.
When we want to take care about someone, we are ready to share everything with this person. Caring means sharing!
Teamwork is the key to success. I like this shot because all the people on it have different characters but they work together as a great team! Hope they have finished building their rocket 😄
Wow! Just look at this cutie. It's so nice and awesome. Just want to grab it and cuddle!
I like Halloween shots and this one is really scary. Just check every detail of this artwork and you will fall in love with them as much as I have done.
Diana on the Web
Do you like Diana's illustrations? You can find her account on Dribbble and enjoy all her amazing artworks.